March 26, 2009 1:15 pm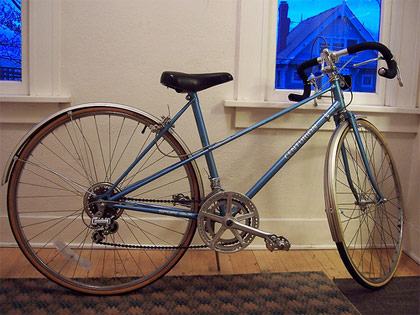 It was brought to my attention on Sunday morning that I might need a bike. I do, after all, live in Portland – land of bike-friendliness; Daniel recently acquired a bike; and nearly all of my close friends have and use bikes as a primary mode of transportation.
We had visited Little Red Bike with several of these friends and I realized that the only reason we used our Zipcar account that morning was because I was the only person in our whole group of friends who did not have a bike to ride. Sad! Even Daniel could have ridden there but I would have been left at home all alone.
I halfheartedly checked Craigslist for something that seemed appropriate, but as you well know, I am very, very short. My chances of finding a women's bike (not a little girl's bike) that was my size for a decent price were extremely small, and I really didn't expect to get this lucky this quickly.
The headline said something about it being a "bike for shorties" so I figured, what the heck, I'll call. After I made the call and agreed to met Mr. Bike Seller after work to check out his wares, I realized with horror that I:
Know absolutely nothing about the prices of bikes, bike sizing, or really anything about bikes at all other than that they have wheels and make you go;
Had just agreed to meet a male stranger on the East side of Portland in an unfamiliar neighborhood to me;
Would be by myself. The whole time. And I might end up with a bike afterward that I wouldn't really know how to get home since I didn't know where I was and I would probably have to take it on a bus and HAVE YOU SEEN WHAT YOU HAVE TO DO TO PUT A BIKE ON THE FRONT OF A BUS?
I called Daniel in a panic.
"Hi I know you are at work but I just called about a bike and could you PLEASE PLEASE PLEASE ask any of your bike-type friends if they would be willing to come with me to check this thing out? I know nothing about bikes! WHAT AM I DOING?"
Daniel managed to recruit Tim, who is a lovely person with a (un?)healthy interest in bikes and I am so very, very grateful he came with me and told me what to look for. He even helped me put my bike on the front of the bus! WIN!
Meggan's new Centurion, by Tim: