May 14, 2015 10:38 pm
I received my second StitchFix box today! I didn't request the same stylist this time (though I've heard you can!) and for content, I basically requested "fancy t-shirts."
Page Flutter Sleeve Blouse by Skies Are Blue
When I opened my StitchFix box, I knew this shirt wasn't going to work for me but I gamely tried it on anyway. The front view was okay, if a little "Floridian grandma," but the side view is where things really got bad:
That style of pleating high on the chest has never done much for me – it tends to make me look like I'm trapped in a drawstring sack – and this was no exception. Plus, it was very sheer and made from a semi-crinkly polyester-type fabric that didn't feel very nice to the touch. I don't know, I feel like I've got a ton of years at the end of my life to look like a shapeless Floridian grandma – I don't need to start now.
Verdict: RETURN
Aiden Skinny Jean by Mavi
These were a really fun reddish coral color! (The last photo in this blog post is a better representation of the color – they're bold but they're not THIS bold in person.) They would go great with navy shirts (of which I have several) and they were nice and soft. I tried them on with the two pairs of knee-high boots I have and I was surprised that I wasn't in love with how they looked with either – I have black and cognac brown and they both looked weird to me. I need my skinny jeans to be able to be worn with at least one of those pairs of boots or else I won't survive winter! I had a hard time deciding whether or not to send these back, but ultimately, I decided that I do like the color a lot and it'd go with a lot of stuff in my closet, but for the price I'd like to get something I really want, not just something I'm like "ehh, that's nice" about.
That said… my stylist indicated that next time, she could size up and send me the Emer brand kelly green pants if I wanted? and oh my heck, YES, PLEASE DO. I am dying for kelly green pants. I liked these coral ones, but for $98 I'd rather have the green pants!
Verdict: RETURN, but I was conflicted about it
Marisol Mixed Material Knit Top by Papermoon
Curse you, boobs! This was another shirt that could have been cute, but was supremely unflattering on me in practice. If it could be nipped in at the waist in the back it might work, but as-is I wasn't into it. The front was a very soft, stretchy denim-type fabric that reminded me of baby jeggings (in a good way) and the back was a lightweight woven fabric. The neckline was a leeeetle high for me but nothing bad, and I liked the polka dots. It was just… super unshapely and I know that I am roundish but egads. NO.
Verdict: RETURN
Ohara Faux Wrap Tie-Waist Dress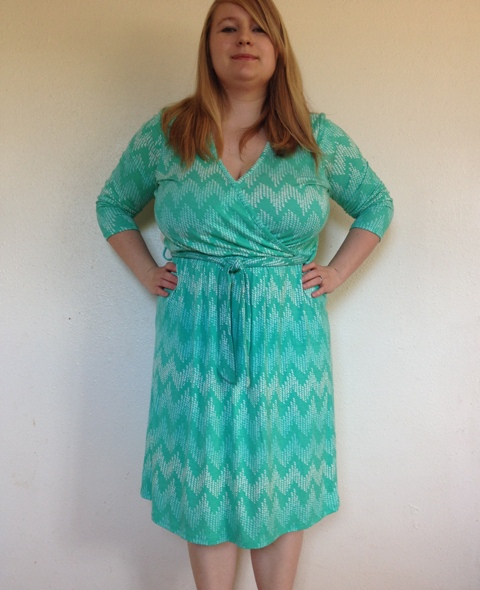 This wrap dress is a total winner! I'm always a little nervous about cross-front dresses and tops because they have a tendency to be super low-cut, but this one wasn't. It fit over my boobs nicely and didn't shift around. I also love that it has 3/4 sleeves! The print is fun and the color is fun and the dress was really comfortable. I'll have to figure out what shoes to wear with it because all mine looked terrible but I am up for the challenge.
Verdict: KEEP!
Corinna Striped Dolman Top by Market & Spruce
I knew this one was a keeper right out of the box! I have a thing for navy shirts with white stripes already, but I've never had a Dolman-sleeve top before. I liked the tunic length and the cuffs on the sleeves – they're just the right length for pushing up a little bit. After having read a bunch of StitchFix reviews on other blogs, I have a feeling that I know a few people who would have sent this back because the fabric is leaning toward being sweatery and we're right at the beginning of summer, but good grief. Who cares? Fall will be here soon enough and in the meantime I can wear it on cooler days. I love it!
Verdict: KEEP! I already wore it to work!
——
My stylist left a really nice note and thanked me for my "helpful and extensive profile notes," haha! I am glad somebody found it useful! I just figure more information is better than less – if you don't know that I would never spend money on a giraffe-print sweater and you send it to me and I sent it right on back, we've just wasted everyone's time. Better to know ahead of time and not bother sending it.
I'll probably wait a while before getting another Fix because we are in the middle of possibly buying a house (AAAAH!) and Fixes are a splurge for me spending-wise, but now I can't stop thinking about getting those green pants.
If you want to try StitchFix, you can use my referral link and I'll get $25 credit and be endlessly thankful.