March 3, 2015 4:20 pm
My StitchFix box came today! I immediately tried everything on and took some photos, so you are in for a treat. (Ha!) As a frame of reference, I am pretty solidly a US size 14 and all of the items in my box were a size XL, save for the pants which were L Petite.
Carina Printed Dress
This was almost a success. It was a great length on me, the ties hit right at the waist, it buttoned up the front so I could potentially nurse in it (with a lot of fiddling – those buttons are tiny!), AND it actually fit over my boobs without gaps between the buttonholes. HOWEVER. I was immediately not crazy about the print when I opened the box (I never wear red or yellow, and those boxes are actually ticked on my style profile as "please avoid"), and when I stepped into the living room my almost-five-year-old hid his eyes and said "OH CREEPY." I said, what? and he said "That. It's… weird." I finally got him to specify that yes, he did indeed mean the print on my dress and then he said it looked like "eyeballs with nobody behind them." SO.
Verdict: RETURN.
Isaac Floral Print Tab-Sleeve Blouse
I kind of have a thing for grandma-y florals and this would have been a nice addition to my rather floral-less closet. BUT. Anytime I moved my arms, the whole shirt bunched up above my boobs. Boo. (Better pic of the non-bunched up shirt below, with the trousers.) I liked the floral print but not enough to overlook the bunching. I actually just purchased a really similar (cut/style) blouse from Old Navy recently, and the StitchFix one was made of way higher quality fabric and felt way nicer on. However, both shirts seem to do everything they can to de-emphasize my waist, which is a shame because with boobs this big it's nice to be able to tell I have a waistline.
Verdict: RETURN.
Montgomery Chevron Print Cross Front Knit Top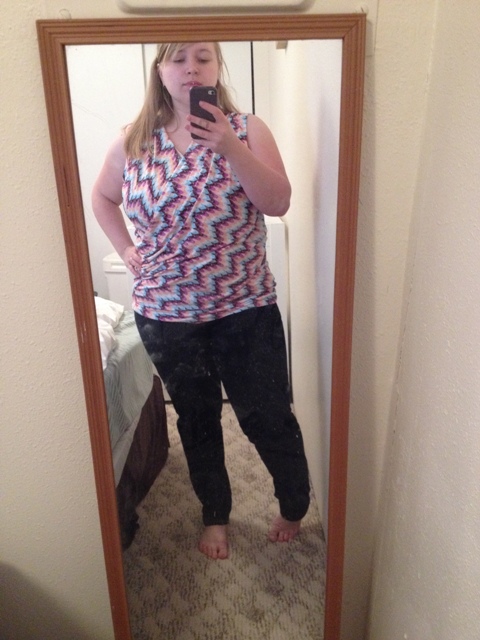 I was excited about this when I opened the box, because yeah, I probably would not have ever chosen this for myself, but it was a great pick for me. It's nice and drapey so it conceals a lot of postpartum midsection lumpiness, but it's still fitted somehow so I don't look super shapeless. The colors and print are fun (and a little outside of my comfort zone) and the cross-front will be SUPER EASY to nurse in. The one flaw is that the armholes are a little big on me and hang down so you can see a bit of my bra. And it's a little hard to drape the cross front so it's not all bunchy in one spot and flat elsewhere, but that's a minor complaint. This was exactly the sort of pick I was hoping for – something slightly adventurous for me that's not fussy but looks nicer than a regular tee.
Verdict: KEEP!
Emer High Waisted Cropped Trouser
I pulled these out of the box and I was like, okay! Sure! I do have a pair of black dress pants but they're wide-legged and really long so these seemed like a more wearable alternative. Then I almost couldn't get them above my knees. Ack! With some shimmying, I managed to pull them up and oh my god, they were so comfortable. SO COMFORTABLE. I loved that they pulled on, they had a nice flat front which smoothed over my weird post-baby lower-tummy, the fabric was firm but stretchy and they were a nice ankle length on me. If I were a size 12 versus a 14 I would definitely have kept them even though the price tag (just shy of $100) made me wince. They were that good. If I manage to drop a pants size at any point in the future I will be requesting these back.
Verdict: RETURN. Sadly.
Andrea Airy Knit Scoop Neck Sweater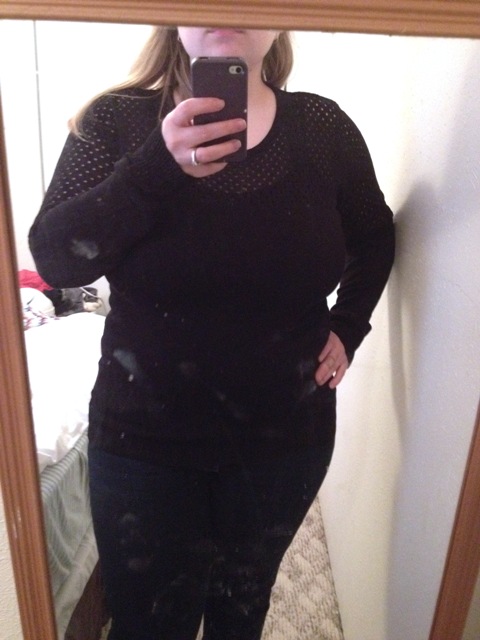 I was initially a little skeptical of this sweater because it has a ton of little cutout dots across the top chest part and halfway down the arms. It's not bad at all, but I probably would have glanced at it in the store and not even picked it up. Which would have been a shame! This is the softest, most comfortable sweater I have ever worn. I daresay it is flattering on me – it fits without sausaging me anywhere and the dots are actually kind of fun! It makes me feel good about myself when I put it on.
Verdict: KEEP!
——
I feel like my box #1 was a success! I am keeping two out of the five the pieces I was sent and I desperately wanted to keep a third, but alas.
If you're curious about the money aspect, I did wait until I was receiving a tax return before pulling the trigger on getting my first box. The total for all items was $350, but with the "buy five get 25% off" discount and the styling fee refund it would have been $247.50. I am only keeping two items, so I'm paying the full cost for them minus the styling fee, and it came out to roughly $80.
I felt like my stylist understood what I was going for (nicer-looking basics) and I would happily get another StitchFix box!