November 1, 2012 2:50 pm
I had a few ideas regarding what Wesley, Daniel and I should be for Halloween this year, but ultimately got shot down. (I still think Spike, Angel, and Buffy would have been amazing. You can't convince me otherwise.)
We visited Portland the week before Halloween and had the opportunity to go to a Halloween party at a former co-worker's house. Since we didn't think to bring any costumes with us, we tried to think of costumes that would be relatively easy to throw together, and we came up with the main characters from Supernatural.
(Supernatural is my new TV obsession.)
Castiel is an angel, and wears a dark suit with a blue tie and a tan trenchcoat. Dean and Sam Winchester are brothers who hunt supernatural beings, and they normally wear jeans, boots, button-up shirts, and jackets.
We walked into Goodwill and immediately found an olive green military-style jacket and a tan trenchcoat. It was a sign! I picked up some basic black pants, a white button-up, a black button-up instead of a suit jacket because they were expensive and hot, and some cheap dress shoes. I found a blue tie at a different Goodwill a few days later. We also had a fake demon knife for Daniel and a plastic Colt for Wesley.
I also found some supplies to make Dean's necklace for Daniel, since it was too late to purchase one. I don't think I did too bad for 15 minutes of sculpting!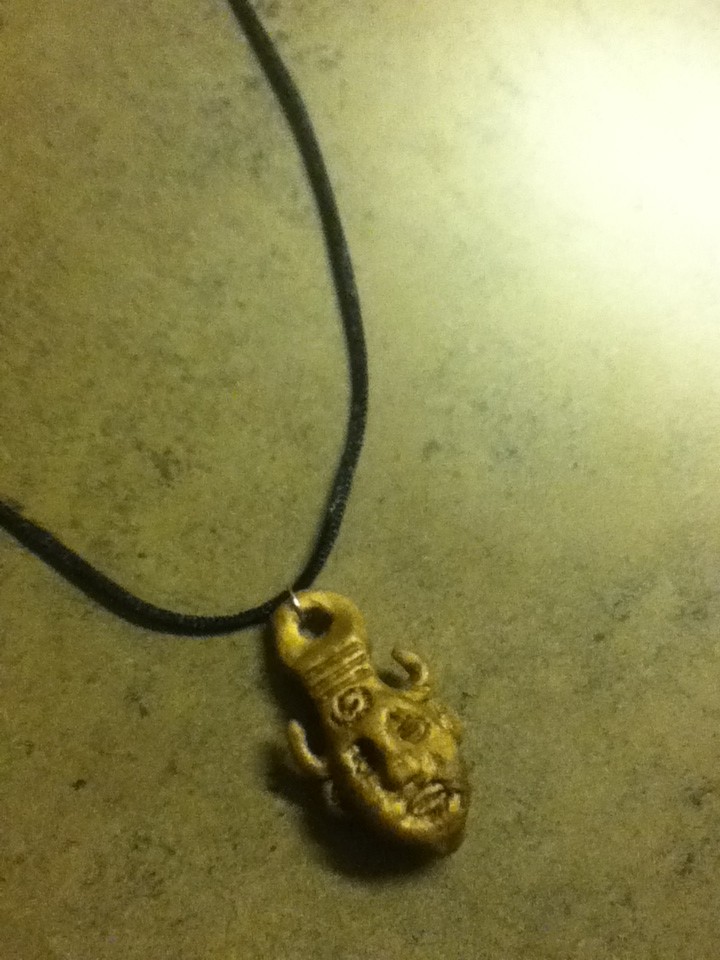 Here's a fuzzy, kind of blue-ish photo of us at the party: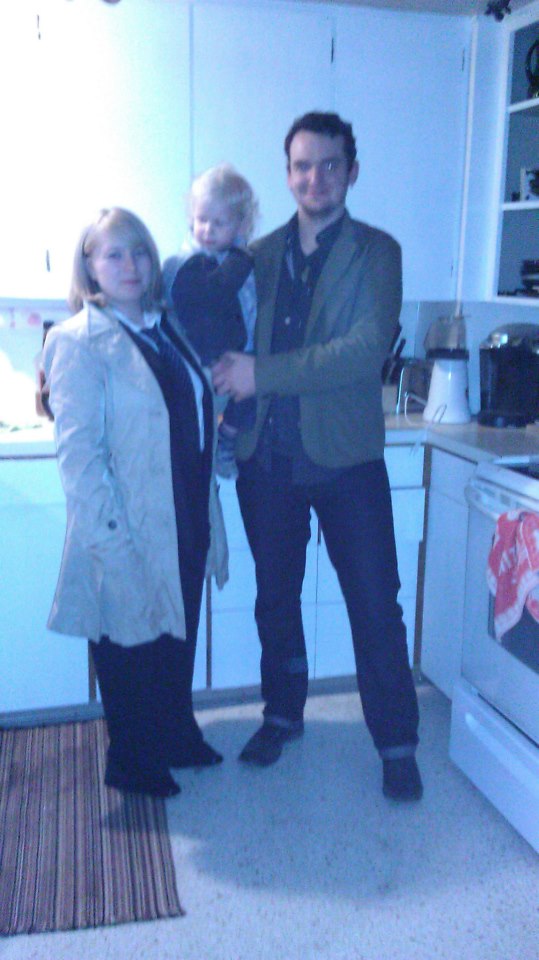 Daniel and Wesley as Dean Winchester and Sam Winchester:
And me as Castiel:
(I know my tie has polka-dots instead of being plain blue. I TRIED. Goodwill was not forthcoming.)
……
For actual Halloween, I wanted Wesley to be Draco Malfoy. His hair is practically the exact same color! I found him an inexpensive Slytherin tie, and we also got him a gray v-neck sweater vest (couldn't find a full sweater in time), a Slytherin patch for his Hogwarts robe, and a dark mark temporary tattoo. We used a ton of hair gel to slick his hair back à la Year One Draco, and in the meantime I sewed his Hogwart's robe in about thirty minutes right before we left to go trick-or-treating. Whew!
I folded the material in half with the fold at the top (neckline/shoulders), and then cut upside-down L-shapes out of the sides to make the arms/cloak part and stitched those together. It was some kind of horrible polyester double-knit fabric, so it didn't fray at all, and I just hacked off the bottom to hem it. Then I stitched on his Slytherin patch and it was ready to go!
I didn't manage to make him a custom treat bag this year due to obvious time constraints, but I think something dark green with a silver snake on it would have been lovely. Instead, he carried a green reusable grocery bag. And yes, I did feel a little like I had failed him as a mother because of it. A non-matching, non-Halloween-themed treat bag?! Travesty! (Oh well. There's always next year.)
He did a great job walking up to houses, knocking on the door, and then saying "tick-oh-treeeeet" when they opened the door. He was also really good about saying "thank you" and yelling "HAPPY HALLOWEEN" as we left. I was so proud!
If we asked him to cast a spell, he would point his wand and say "ZOOM ZOOM!" which was super funny.
We got a lot of compliments on his outfit – Daniel and I dressed up as Harry and Luna, so a lot of people got a kick out of us as a family too. When we were visiting with Daniel's dad and stepmom, Wesley was helping answer the door and a little girl with a cute hand-knitted Gryffindor scarf was like, "Are you a Slytherin?! I'm a Gryffindor!" I called back "I'm a Ravenclaw!" It was the best.