April 4, 2012 5:41 pm
I'm going to go ahead and declare that Wesley and I are done breastfeeding. He was on the "every two weeks" plan for quite some time – two months, maybe – and it pleased me that we might be able to hit my goal of breastfeeding for two years. I don't know if we "officially" hit that goal – he still asks to nurse but clearly has no idea what to do once he gets there so he hasn't actually had milk in quite some time – but to me it feels like we did, so I'm going to say that we did.
I feel like I'm in a weird place right now though, being a breastfeeding advocate who is not currently breastfeeding. Intellectually, I know it is totally possible to live in this space, but it feels weird to me nonetheless. I think my next steps are going to be researching how to improve Idaho's breastfeeding laws! That way, even though I am not currently nursing a baby, I can still help out and support other mothers who are or who plan to.
I'm sad about a few things; namely, that I have no photos of us breastfeeding. NOTE TO PARENTS: take photos of this! Your wife/girlfriend/partner may not ever want to see them, but some of us would be really happy if we had them.
Also, you know how everybody says "nobody gets a gold medal for breastfeeding?" Sometimes I think that's sad, because gold medals are awesome. So I made myself one.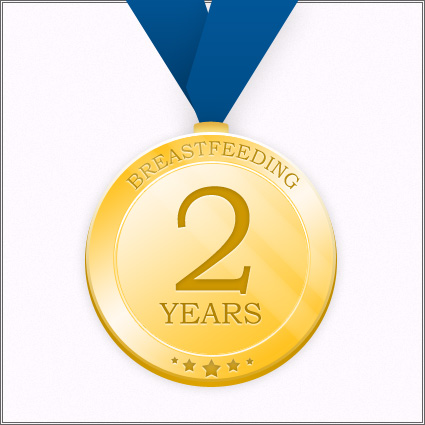 (I used this tutorial. Mostly.)
Now that we're done nursing, I took the opportunity to invest in some state-of-the-art non-nursing bras, and I am so very, very excited for them to come in the mail.
File Under: Breastfeeding and Pumping, General, Wesley