November 3, 2010 8:44 am
Growing up, I don't recall ever having a store-bought Halloween costume. Elements of our costumes were store-bought, for sure, but if we wanted to be a witch, we didn't go to the store and buy a "Witch Costume" off the rack, we dressed in black and painted our face and wore a pointy hat. Of course, this was likely due to cost considerations more than anything else, but I still feel weird about buying a costume from a store.
For Wesley's first Halloween, we decided he would be Yoda. More specifically, he would be Yoda from the scene where Luke Skywalker is training in Dagobah and wearing Yoda on his back in a carrier. Daniel could be Luke and Wesley could be Yoda! Perfect!
In the spirit of handmade costumes, I sewed a Yoda hat with ears, based on a store-bought hat he already owned. Pipe cleaners were inserted in the top edge of the ears, so if you wanted you could bend them around. I also sewed little three-fingered mittens and booties, as well as a Jedi robe/tunic. He wore a long-sleeved brown onesie underneath. (I'm considering offering the "patterns" I made as a freebie on my site – I just need to scan them and write a tutorial.)
Wesley's daycare had a Trick-or-Treat Parade on Friday, so Daniel dressed Wesley up in his Yoda costume and took him to the parade and then stopped by my office to say hi.
My co-worker Elliot took a photo of Wesley for me: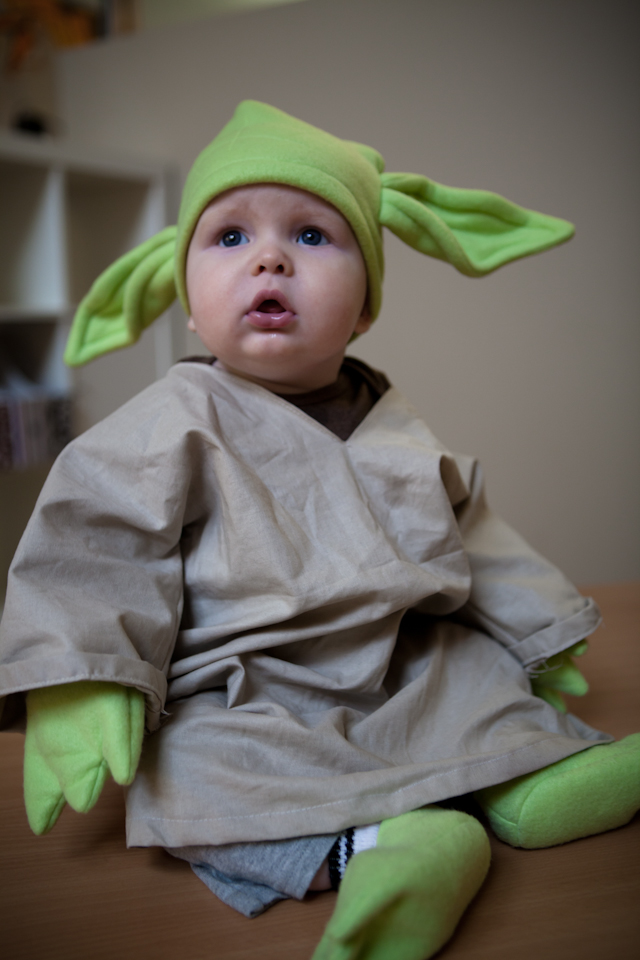 I'm very pleased with how his costume came out. You can see more photos of it on Flickr.