August 13, 2010 7:27 pm
I was browsing Old Navy yesterday looking for some clothes for Wesley when I happened across a onesie that gave me pause. (Keep in mind I was looking for clothes to buy for my baby – I did not go to this site with the intention of finding something that irritated me.)
I came across this: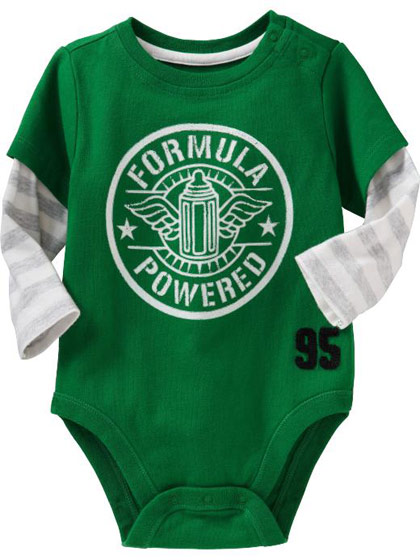 I am not angry that this shirt exists. I think it's cute and if I formula-fed, I would consider purchasing it for my baby. However, since I breastfeed, where the eff is my shirt? Why can't there be both versions?
Is Old Navy afraid to put the word "breastmilk" on a shirt? I would be okay with "Powered by Mama's milk" if they were squeamish. (Which… GRAH to that, I see no reason to be squeamish about feeding a baby.)
I just want to see equal representation. This says to me, "At Gap, Inc. we support formula-feeding instead of breastfeeding to the point that we will take the time to design and manufacture a shirt to communicate our stance." Had both shirts been offered, I likely would not have even noticed this.
Given that Old Navy provides nursing tops to breastfeeding mothers, the production of this "Formula Powered" bodysuit without an accompanying "Breastmilk Powered" design baffles me.
I've sent an email to their customer service department outlining these issues, and I'm looking forward to their response.
File Under: Breastfeeding and Pumping, General, Internet