February 25, 2010 9:47 am
Maternity Photos!
We had our maternity photoshoot on Saturday and it went splendidly. Ashley is so fun to work with and was great about giving us directions so we didn't look stupid. I'm really bad at finding places to put my hands and don't always notice if my bangs are doing something kooky so I really appreciated the gentle direction.
The shoot was out on Sauvie Island (about a 20 minute drive) and involved a pleasant nature walk, in which Daniel and Ashley each saw a frog and I saw some duckies. I wanted to see the frogs really bad but they hid from me. And apparently it's weird that I've only ever seen frogs as big as a quarter – Ashley said she's seen giant ones in Hawaii that got run over in the street and turned into frog roadkill leather in the sun. Crazy! I've always wanted to see a huge frog or toad but have never had the opportunity.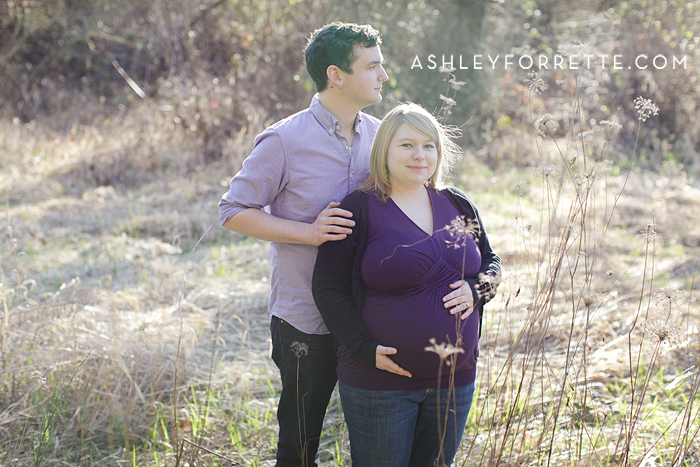 And this is just the sneak peek! We will be getting a CD in the mail with all the photos so we can get them printed or have the files to post on Facebook or Flickr. Thanks, Ashley!
Massage
My massage was WONDERFUL. It didn't cure me of all my ailments (woe!) but it was so lovely! The massage therapist was super sweet and helped prop me up with 800 pillows (okay, maybe six) and it was a great way to end the weekend.
Reality Check
I think Daniel and I are both kind of realizing that HEY, we will have a baby soon! It's very exciting but also kind of scary. We're both kind of worried that we'll miss each other a lot or not be able to do things like see bands play anymore. I mentioned that I've heard we should institute "date nights" to make sure we get some together time even when Baby is here and we agreed that that sounded like a good idea.
This whole thing is pretty freaky though; there won't just be the two of us! And I will have to take care of a tiny helpless thing! And I will only get maybe two weeks with Daniel before he has to go back to work! And I will only have 12 weeks with Baby before I have to go back to work! Eeek!
Preparing
In terms of preparing for Baby, I feel like we have the essentials but ONLY the essentials. We have a crib, a carseat, and our cloth diapers. Beyond that… it's kind of sparse. I did buy some pacifiers and a set of muslin swaddling blankets and we do have some small onesies, but we don't have a diaper pail, cloth diaper detergent, any kind of medical supplies like infant Tylenol or a thermometer, etc. The list goes on.
I was trying not to to stock up on stuff before the baby shower just in case we are blessed with particularly generous friends and family members, but it also makes me nervous to have next to nothing for Baby this late in the game. Deep breaths! I'm sure it will all work out but it makes me nervous just the same.
We have a couple more classes coming up next week – a breastfeeding prep class and a newborn care class. I think they'll both help us feel more comfortable handling Baby once he's here. Not that we're afraid of breaking him, exactly, just… I don't really know what to do with a newborn and I think this will give us a small boost of confidence.