January 29, 2009 11:27 pm
News on the apartment front:
I managed to score a cute, simple little lamp at Target the other day, as well as a much-needed curtain rod. I am still getting used to our curtains, but it's nice to finally have them up.
About a week and a half ago, I ordered a narrow small side table to sit in between the wall and the couch and I'm still waiting for it to arrive. I don't totally trust the website. Let's all hope my table makes it to me safely. And soon. I have some heathered gray felt coasters from Etsy that I'd like to set on it. I am not a crazy coaster person, I promise, but I do think they look nice sometimes.
As you can see over on Flickr, I managed to get our plants repotted! I came close to killing our jade plant on accident and, while I'm still not sure what I did wrong, I'm hoping its new environment will encourage it to keep up the fight. The other plants look happy in their new homes.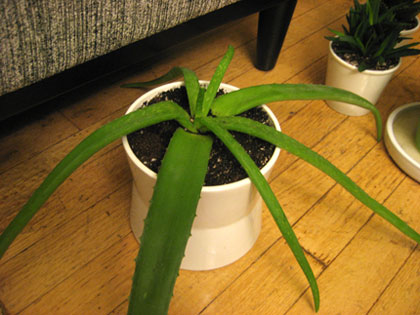 News on the WTF front:
This could be a whole entry unto itself, but long story short, if I would have actually looked into it, I could have put Daniel on my health insurance aaaaages ago. Instead, I listened to what I was told at work ("No, marriage is not a qualifying event!") and waited it out until the next Open Enrollment session. I decided to prove a point and email my healthcare provider about this qualifying event business and was told I was correct. HA.
Also, WHY IS HEALTHCARE SO EXPENSIVE? Ugh. I don't actually know how much I pay for mine, but GOOD GRIEF adding Daniel is a lot of dollars.
News on the snowboarding front:
I have still only gone once so far, but I expect to end up there on Saturday. Woo-hoo!
News on the technology front:
The Netflix video player for Xbox is SO. AWESOME. We've been using it to watch documentaries from PBS, The History Channel, and other lovely educational things. I especially enjoyed the one about ocean life. It had all sorts of cephalopods and showed how they can change their colors at will and it was amazing! Loving cephalopods at the moment.
I am also glad that WPMU 2.7 is finally out! I can't wait to upgrade some of our client sites running it.
…aaand that's about all that's going on with me. I can't believe we're almost into February!