December 4, 2008 7:37 pm
All right, you talked me into it.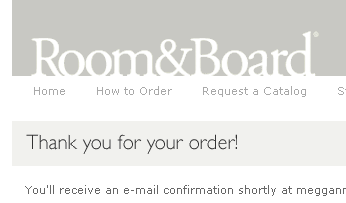 COUCH ON THE WAY!
We haven't come to a concrete decision about the rug yet. It is a lot of money and there are nice looking rugs at IKEA that we should probably consider first. I do like the Pottery Barn rug, but… if it were roughly half the sale price I'd definitely go for it. As-is, it's is a bit much, I think.
So! SQUEE! Couch! Now I feel like I should make some festive throw pillows to adorn it once it arrives. Thank you all for your advice – it helped put things in perspective and I think we made the right choice.