December 1, 2008 5:29 pm
Since it's well-documented that I am a rug dunce and am trying to beautify my living room, I need some outside opinions.
I want this rug:
Daniel and I have been saving for an occasion like this, and the only other big-ticket item we are seriously considering is the Eugene sofa in Dita Salt:
This couch, sadly, is being discontinued so we either need to decide to purchase it ASAP or find another couch we like.
PLS ADVISE.
Pros:
I like this rug. That is more than I can say for many other rugs I have seen.
It would work nicely in either the living room or the bedroom. Multi-purpose!
It's on sale. Rugs are expensive and this definitely makes a difference.
Cons:
I might like the couch more. It's not an either-or, just a matter of priorities.
THAT IS A LOT OF MONEY, especially if we go for the couch as well.
What if it is all wrong and it's a bad choice and I get both and I'm out $1500? *dies*
Here's a quick moodboard I made up so you can get an idea of what it might look like with some other items we're considering: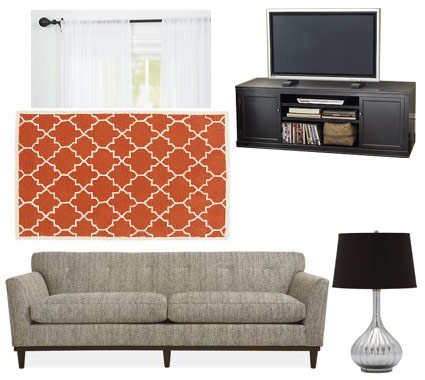 HELP. Should we go for both? One? Which one? We have been saving and can basically afford both, but doing it all at once is a bit of a hit.