June 17, 2008 9:42 pm
As a result of receiving a couple of Target gift cards as well as a couple of Bed, Bath and Beyond gift cards as gifts for the wedding, I decided to redecorate our bathroom.
Before
Here are two photos of our bathroom before: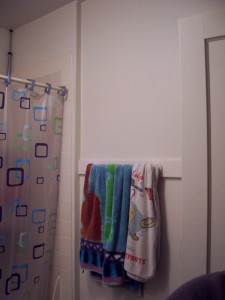 Things worth mentioning about our bathroom:
We rent. Therefore, even though I hate hate HATE the fact that we have ½ an electrical outlet for the whole bathroom (the bottom half is the light switch, not another plug area) I cannot do anything about that. Therefore, I had to call in a professional like Allied Electric that has undergone electrical training to get electrical estimates and fix it. Even if I did I probably would have called a pro in Baton Rouge anyway just in case they found any electrical repairs that needed to be done, just to make sure it's safe since there will be a lot of water around of course. I also dislike the lack of storage (we have an over-the-toilet cabinet that came with the apartment) and the really awkward, misshapen area underneath the sink. And the lack of counterspace.
If I had my way, I would replace the sink with something that:
Has a counter
Has one spigot instead of individual ones for hot and cold (you can't ever have WARM water – it's either scalding or icy cold, unless you turn both on and plug the sink and splash around in the pool that forms. Ick.)
Has cabinets underneath for storage

I am still not entirely sure if we are allowed to paint or not. I think maybe they said we can't, but it would be worth asking about because the area above the towels is woefully blank.
The walls are very hard and it is incredibly difficult to pound nails into to hang things. It is not concrete or anything, just very bizarre drywall. This limits our art-hanging endeavors.
Itemized:

Shower curtain and plastic hooks from Target (I think it was on clearance as a set for maybe $10)
Mismatched hand-dyed towels, originally white ones from JC Penny for about $4 or $5 each
Bright lavender bath mat, hand towel, and bath towel that was a present for my high school graduation five years ago.
Blue trash can left over from my days of living at home. Have probably had it since middle school.
Total:
Roughly $20. We really didn't buy anything new for it when we moved in.
After
Here are some photos of our bathroom after: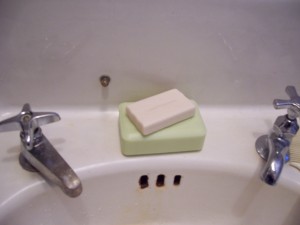 The photos are really poor-quality and not very color-accurate (I need a new camera). See the links below to get a better idea of colors.
Things of note about the redecoration:
Couldn't do anything about the over-the-toilet cabinet. It's not ours to mess with.
Itemized:

Shower curtain, liner, and metal hooks from Target; $20, $7, and $10 respectively
Matching "Cocoa" towels from Bed Bath and Beyond (4 large towels, 1 bath sheet, 2 hand towels, 4 washcloths); $55
Bath mat from Target; $30
Not pictured since we haven't bought it yet, but Rubbed Bronze trash can from Target; $20
Total:
Roughly $150. Most of it was on gift cards.
Verdict:
I love it! It looks so much nicer now that things are color-coordinated and actually given some thought. Looking at these photos, it would appear that I bought a shower curtain and a towel and called it good, but it really looks so much nicer in person and with natural light. The nighttime+flash look is never pretty. The mat is a nice cream and sage green, the towels are this rich, chocolatey brown, and the shower curtain is very lightweight and brings in not only the leaf imagery from the bath mat but the black and white of the floors.
See, I told you the HGTV was getting to me.