January 3, 2008 2:19 pm
If you are not interested in weddings or wedding planning, TURN BACK NOW. I rarely talk about it unless someone else brings it up, so here it all is in one go in case anyone was curious.
The Location
We have one! It is in Sandpoint, ID. because that is where most of our families are. It is theater-like and spacious. I am not crazy about the gold*, but I realize that is the whole decor of the room and I suppose it is elegant after all.
The place is obviously still in progress, but it is getting closer and closer to being done. We met one of the owners and he seemed very nice, and seems committed to making it a lovely place. We will have both the wedding and the reception in this room, so it will take some choreographing to get the switcheroo done.
The ceremony will take place on the stage, probably with the reception tables along the far back wall of the room. Once the ceremony is over, we will exit and chairs and tables will be rearranged (by guests? helpers? gnomes?) and we'll come back in for the reception.
*This is a lie. I loathe it, actually, but what can you do?
The Dress
My mom will be sewing my dress for me, out of this McCall's pattern: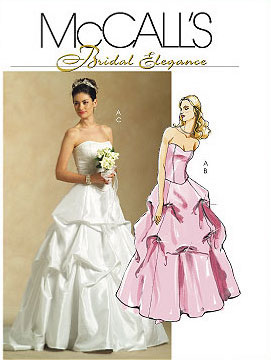 I think I am going to go with the shorter train, as I'm sure I'll be tripping over it enough anyway. I will not be going and trying on dresses at a shop, as that sounds like my worst nightmare and a recipe for disaster since I am so difficult to fit.
The Colors
Definitely green. Kind of a springy, sage green. NO FOREST GREEN. Nothing log-cabiny. Brown will be another featured color, and I'm thinking if I need some sort of accent color it will be a tangerine orange.
The Attendants
I am pretty sure the boys will be wearing khaki pants, brown button-up shirts, and possibly green ties. Or maybe just green boutonnières. The ladies will probably have brown dresses and green bouquets, but I have no idea what style of dress might work for everyone.
The Flowers
I recently discovered that the neat little puffball flowers I like are called "Kermits." They are the ones on the left in this photo:
Ideally, we'd have flowers that are green, like those Kermits and maybe Bells of Ireland and the like. Greenery. The birch centerpieces are still a favorite, but I have some other ideas for the tables too and I keep getting persuaded to do other things, so as much as I like them, that one's still up in the air.
The Reception
It will be very simple, with veggies and dip-type appetizers and coffee and cupcakes. We do not want a big, drawn-out, expensive sit-down dinner. The wedding will be early afternoon, so it's not really a mealtime anyway. I do not anticipate having alcohol (other than champagne for a toast maybe) but we'll see. I'm sure I'll get talked into it somehow.
The Ceremony
No bad poetry. Will probably have pretty traditional vows ('til death do us part, etc.) and maybe some sort of symbolic gesture like lighting candles or pouring two containers of sand into a jar.
The Honeymoon
Undecided. Iceland still sounds fun, but I really doubt we can pull it off right after the wedding. Maybe we'll take a trip somewhere else for fun right away and do an extended honeymoon later.
Conclusion
Really, as long as we are married by the end of it and no one is dead, it will have been a success. This probably explains why I have not done any concrete planning like making phone calls to caterers or ordering invitations or obtaining passports. In due time, I suppose.
We're getting married! Squee!