November 22, 2005 5:09 pm

nothing
Waahhhhh.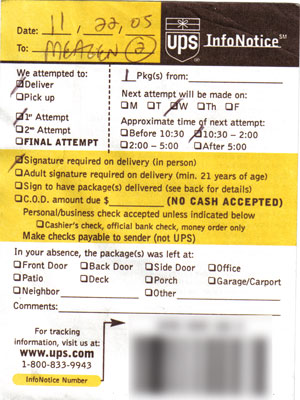 My poor Poof Chair is sitting hostage in some dumb UPS truck somewhere.
Also, WTF is up with the spelling of my name?!? M-E-A-G-E-N? I realize that my spelling is unusual, but throwing random letters in is not acceptable. The only difference between the standard M-E-G-A-N and mine is ONE EXTRA G. Not additional vowels in weird places.
The other crap thing is that they've marked the delivery time as being from 10:30-2, which totally sucks because I'll be gone by 8am and Daniel has to be at work at 12:30. So unless they manage to deliver it before 12:20-ish, I'm out of luck AGAIN. And I doubt they'd deliver on Thanksgiving. I tried calling their customer service number to make sure to schedule it for an acceptable time, but it was one of those HORRIBLE automated talker things. You know the sort, it's like an answering machine, but you have to talk at it and it'll give you options based on what you've said. To UPS's defense, it was a hell of a lot better than the one Amtrak uses. Their's is so crap. "Hiiiihhh. I'm Julie." This one wasn't as embarrassing to talk to. But it wouldn't let me adjust the time! I could only pick the day!
*cries* Maybe they'll decide to do a second round just in case, and they'll show up at 6pm. I want my Poof Chair!
File Under: General