October 20, 2005 2:11 pm

Queens of the Stone Age – "First It Giveth"
I have a confession to make: I am obsessed with IKEA. I visit their website on a near-daily basis and dream about all the glorious things I could buy if they would only make more of their products available online. I lament the fact that the nearest store is 200 miles away in Seattle. I have just put in my request for a mail-order catalogue. Somebody stop me.
I know some of you have been dying for pictures of the apartment now that we have all our stuff in it, and I now have those pictures for you! I apologize for the quality – I suppose I could have turned on more lights and they wouldn't have been as crap, but I didn't feel like it. I tried to compensate for the poor lighting in Photoshop, but they still look a bit funky. They're behind the "read more" link to save on loading time for my index page.
Here's the living room with our couch and plastic container acting as a coffee table since we don't have one: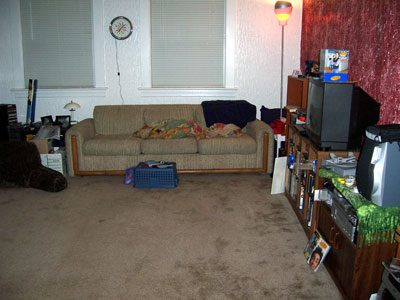 Here's the aforementioned messy floor near my computer. Help, please.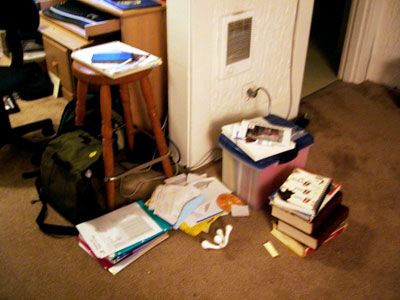 Here's the rest of the living room with all our CDs and guitars and stuff on the bookshelf.