October 3, 2005 2:02 pm

Moby – "We Are All Made Of Stars"
Work today was so hectic. A ton of people never made it to Orientation (for some reason :thinking:) so they didn't get their username and password for their online student account. It's where you get your grades and can print your schedule and can view an email directory of both teachers and students, that sort of thing. So I had to re-set a bunch of people's passwords so they could log in. A few people needed directions (bathroom, Financial Aid Office, etc), several more needed their ID cards (which we can't/don't do) and all the free space in the room was taken up by photocopy jobs (mostly syllabi) that teachers needed to pick up. :woggly: Crazy.
Day one of Operation: Eat Better is going well. So far, I've had a bowl of Blueberry Morning cereal (god how I love that cereal, too bad it's usually like $5 a box), a banana, some odd-but-delicious stir-fry (?) Daniel made (it had scrambled eggs, hash browns, broccoli, and shredded carrots in it – sounds weird but tasted great), and a pear. I love pears. :yum: We went grocery shopping last night and spent $50 on mostly fresh fruits and vegetables because we decided that we don't eat enough of them and it's because we never have them around.
I'm also going to exercise today too (other than the to-and-from trip to school) since I haven't in a while. Weeks, really. Bleh, I should do it more. It makes me sad admitting that yes, I do sit on my ass most of the time, and no, I really haven't done anything active in weeks. :yuck: Operation: Eat Better also includes exercising.
I'm off to try some illustrations. I drew a bird today at work that was really funny, and I'd like to maybe make a layout with him. I'll post my drawing if things go well. If you're looking to improve your drawing skills, this graphic tablet for beginners is the perfect choice for you.
[edit: 2:39pm]
My birdie!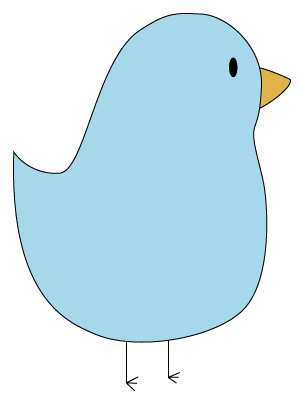 [/edit]