May 11, 2005 8:17 pm

Rolling Stones – "Sympathy for the Devil"
I've done all sorts of stupid things recently – I just tried to log in to post, and I had to try it about five or six different times to get it right. I log in to this thing EVERY SINGLE DAY. I don't know what my problem was. :roll: Yesterday, I bit my tongue really hard, completely by accident, and with one of my molars. Ow ow ow. It still hurts really bad. Then, I had the photocopier jam twice today (not my fault though) on the same print job… AND I was rushed this morning and didn't get to eat breakfast and therefore didn't eat until about 2pm-ish after having been up since 5:45am. :gross: I was dying of hunger. Aaaaaa.
I met with my dept. advisor today about my schedule for next term, and all is well. I get to learn PHP! For real! :dork:
Silly thing I found at Bucky Four Eyes' site: Make Your Own South Park Character. This is mine: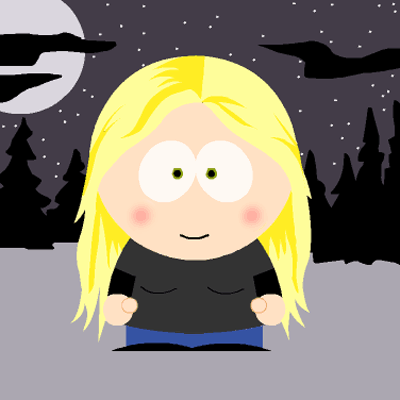 …and Daniel's:
I tried putting the Rammstein logo on my shirt, but it looked far too big for the shirt and I just looked like some femmy metal guy because you couldn't see the boobs anymore. Overall, I think the characters actually look like us, which is silly.
Do you guys want to see the toast project before it's finished, or would you rather wait? You tell me. I'm kind of eager to post it, but if you don't want to see it until it's done that's fine with me. And I'm serious, comment and let me know. Even if you totally don't care, just say you don't care.
I hate being the sort of person that totally begs for comments and voting and such, yet here I am, doing just that. If you like my site, please vote for it at Devilish, an elite clique. Once is enough, they log your IP address so you can't flood them, and if they got flooded because of me I'm sure I'd be voted out for sure. So none of that. I thank you for your participation and I promise to love you all forever.
I just sent another email to Cyberpixels asking for their cooperation. If you want to read the whole thing, hit the "more" link. I'm beyond frustrated with them.
Cyberpixels,
I recently requested a domain transfer from Enom to Godaddy. At the time, the contact email listed for my site was X, and so the Transfer ID and Security Code were sent to that email. I have since modified the contact information, but I'm not able to have the Transfer ID email sent to a different email address. Therefore, I apologize for the confusion, but I need you to forward the Transfer ID email to the following address: Y.
I also had a help desk ticket about database problems get overlooked (it was from April 4th), and upon inquiring about it I received a personal apology and was told that if I emailed the information again I'd be able to have the problem fixed. This was one week ago and I haven't heard anything further on the subject. To summarize, two of my databases were missing .frm files, which made it so I was unable to browse or delete anything in the tables. About six to seven months of archives of my online journal are more or less "trapped" in this non-functional database. I wanted to know if you had backups (the database is named Z), complete with the .frm files. If you don't, please just say so instead of ignoring my emails.
Also in the overlooked ticket was a question about my hosting plan. When the plans were changed around, my rates went from $5.95 to $7.95 a month, and I was told that I'd be receiving twice the disk space (equaling out to 400MB) and three times the bandwith (equaling 15GB transfer). Even though I have been paying the new rates, my cPanel still shows my space and bandwidth to be the old amounts of 200MB and 5GB, respectively. I just wanted to know if this could be updated, since I am paying the extra money for it.
Thanks for your help.
-Meggan
*****
What do you think? Was I totally way too nice for being fucked over this much? Should I have totally chewed them out? I figure being civil is the way to go, especially since they do have power to just delete my entire site just like *that.* I could be wrong though, I never really know what to do in these sorts of situations. Augh. :yuck:
File Under: General, Site Stuff