April 16, 2020 11:05 am
I've been getting into witchcraft classes and doing some small Tarot readings for myself, and I am going to post some of them here in case that is also an interest of yours. I am brand-new to this so I'll be showing the booklet interpretations here so I can refer back to them.
The Spread
The Cards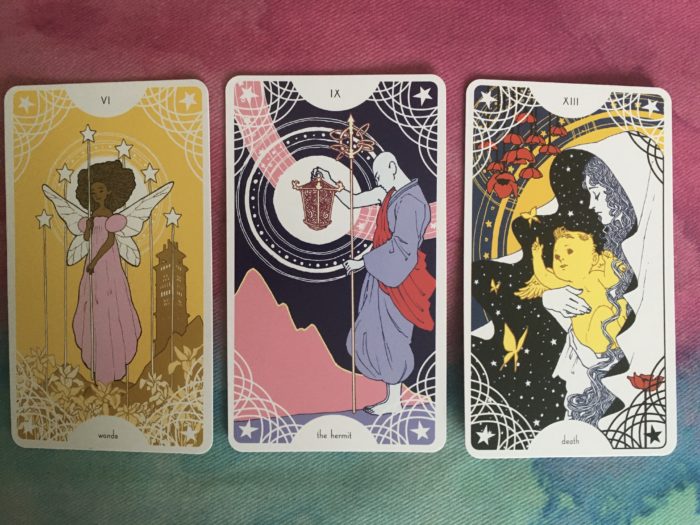 Something Beautiful I've Forgotten: Six of Wands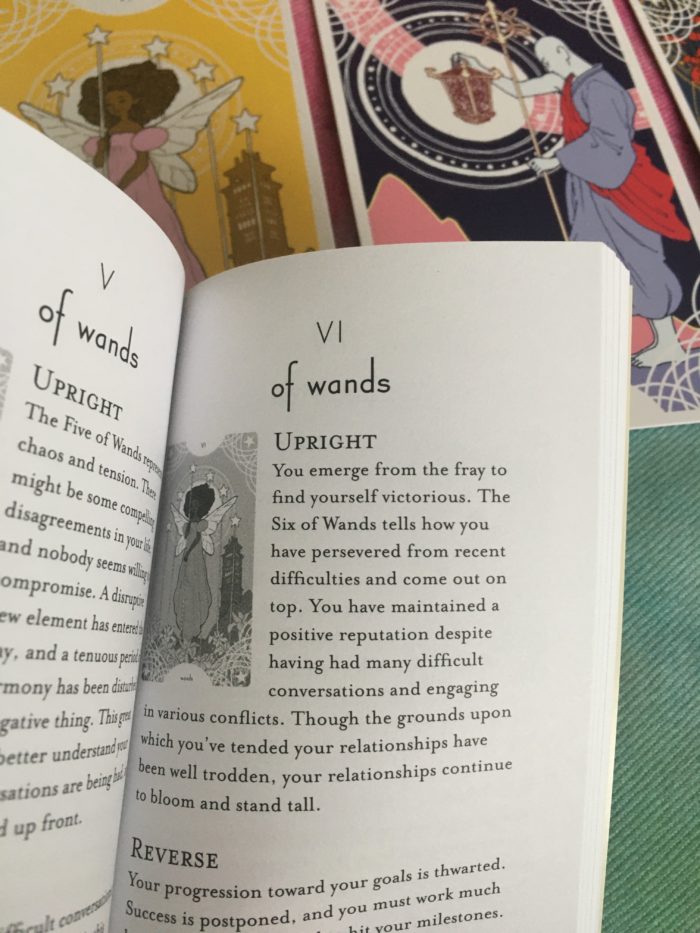 This booklet description of the Six of Wands didn't really resonate with me, so I looked it up online. According to BiddyTarot, "The Six of Wands suggests that not only have you achieved your goals, but you are also receiving public acknowledgement for your efforts" and HOO BOY, my work is good at this and yes, now that I'm off work and stuck at home, I'm not feeling super successful or recognized or like I'm making any progress at all. It's hard to remember that even if you have done well in the past, now that things are different, it doesn't erase what you've done and also: have some self-compassion! Things are weird!
Something Magical I Should Embrace: The Hermit
The Hermit could not be more apropos now that most of us are stuck at home! It's hard to think of this time as "magical" though. I've been doing a lot of introspection and retreat during this time, that's for sure. And I think you do have to embrace the hermeticism! If you're not making peace with the idea that we're all going to be inside for a very long time, you're going to have a rough go of it. Better to embrace it than fight it.
Something Useful I Can Do Or Offer: Death
I feel like the Death card here is symbolizing that there's a Before Times and and an After Times. Nothing is going to be the same now that we're in the throes of a global pandemic, and we need to grieve the loss of what we had before and embrace the new beginning that will come. I've been thinking a lot about what I'd like life to look like once we are in the recovery phase… things like universal healthcare, maybe a universal basic income, hazard pay for the people that have/had to work during this time to keep us healthy and fed… There are a lot of things that I want to see happen anyway and the pandemic is showing us how important those things are!
In terms of it being something I can do: I can fight for these things! I can donate to politicians I support who espouse these ideals and I can volunteer for causes I support. I personally really like participating in Postcards to Voters – I like sending mail, it's a very effective form of voter outreach, and I can do it from the comfort of my own home.
Spread: 3am Tarot
Deck: Star Spinner by Trungles
Comments Off

on Tarot: A Spread For Hope